Erratum to: Unemployment and willingness to accept job offers: results of a factorial survey experiment
Journal for Labour Market Research
Zeitschrift für ArbeitsmarktForschung
2017
50:229
The original article was published in Journal for Labour Market Research 2013 46:142
Erratum to:
J Labour Market Res. (2013) 46:283–305
DOI 10.1007/s12651-013-0142-1
In the original publication the last two answer scales depicted in Fig. 1 had both left and right endpoints labelled as "Very unlikely". It should read "Very likely" at the right endpoints of the scales.
We apologise for this oversight.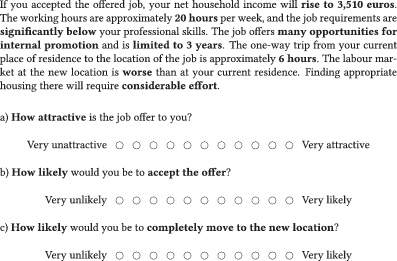 (1)
University Erlangen-Nuremberg, Nuremberg, Germany
(2)
Ludwig-Maximilians-University, Munich, Germany
(3)
Institute for Employment Research (IAB), Nuremberg, Germany
(4)
University of Konstanz, Konstanz, Germany